If you have trouble climbing stairs in your home, or perhaps, cannot use them at all, there's a solution. An installed stairlift lets you go up and down stairs safely and effortlessly. Whether you own your own home, or are renting, and whatever shape staircase you have, we can help you. When you install in indoor stairlift, you can use every room in your home. The installation of an outdoor stair lift means easy access to the street or driveway. Everyone with mobility limitations can benefit from a lift, no matter if they use a wheelchair, cane or walker. Our most popular installation is for indoor straight stairlifts but we can help if you have a curved staircase, too. We not only supply stair lifts, we install them, and customize them to fit your home and personal needs. For help with stairlifts Warren County residents rely on us every day.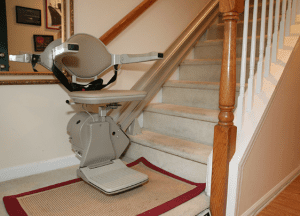 Stairlifts Warren County | Do You Need a Lift
For people who find using stairs painful, or who had to stop using them altogether, stairlifts offer many benefits. As people age, climbing stairs can take a toll on ankle, hip and knee joints. For wheelchair users, stairs are obviously quite a problem. But that should not mean you have to stay trapped on one floor of your own home. Stair lifts offer more than a smooth, comfortable ride, they offer freedom and independence. With the right stairlift, you can once again get safely up and down the stairs unaided. So, if you need a lift, there is a stairlift that is suitable just for you.
Stairlifts Warren County | Choosing Your Lift
There are lifts for every home and stair case type, and for varying levels of mobility. If you have a straight staircase, a straight stair lift travels smoothly between floors, no problem. We can help even if your home has curved staircases, landings and even spirals. Platform, or incline lifts are most beneficial for wheelchair or scooter users. They lift the user while still seated in the wheelchair. Traditional chair lifts are a great choice for people who can get in and out at each end. No matter the lift you require, we have the best products and the best in professional installation.
Stairlifts Warren County | Outdoor Lifts
Independence and mobility should not be limited to the inside of your home. You should feel free to come and go easily, too. Use outdoor lifts to get up and down outdoor steps and deck and porch steps. Outdoor lifts allow for accessibility to driveways and street levels. Just like our indoor lifts, each outdoor stairlift comes with a seatbelt and many safety features. For those who cannot use a stairlift, such as wheelchair users, choose an outdoor platform, or incline lift. Keep a cover on it when you're not using it, and it will stay cool and dry for when needed.
Installing a stairlift could help you regain mobility and liberty. Safely get up and down stairs in your own home again. If you rent, you can simply rent a stairlift, or choose a more permanent option if you own your home. Whether your staircase is curved or straight, or if you have landings, we have a stairlift for your home. Platform lifts are ideal for wheelchair users, as the lift takes the whole wheelchair up and down. For others, chair lifts offer many design options. Don't forget exterior steps, too. Built to withstand any weather, your outdoor stair lift is always ready to go. To choose the very best stairlifts Warren County residents call us for quality products and installation.
Related Posts:
The Real Deal about Stair Lifts and How it Changes Lives
Passaic County Stairlift Supplier
Passaic County Wheelchair Ramp
Disabled Teenager Receives a Stair Lift as a Gift
How to Make Stairs Safe for Seniors and Those with Movement-Limiting Disabilities
Common Wheelchair Hazards in the Home
Integrating Wheelchair Ramps Aid in Promoting Independence Among Those with Limited Mobility
Platform Wheelchair Lifts Provide Optimal Maneuverability In and Around the Home
Frequently Answered Questions: Ramps and Wheelchairs
How to Make Stairs Safe for Seniors and Those with Movement-Limiting Disabilities