Morris County Wheelchair Ramp. Searching for the best wheelchair ramps in New Jersey for your home or business? Ramps are created for different purposes. Doing some research on determining which ramp is the right one for you will help you before you make a purchase. You may need a ramp for a handicap wheelchair or a ramp to transfer heavy items to and from your car into your home. Whatever the reason, it is best to establish the purpose for the ramp and see which best suits your need.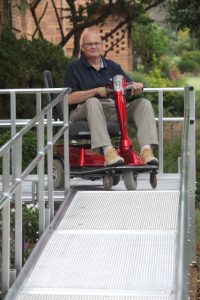 Morris County Wheelchair Ramp | Purpose
Before purchasing a ramp you need to know what is the purpose for this ramp. A ramp provides a simple solution to some mobility issues. By identifying your issues it will help you determine what type of ramp is best for you to purchase.
Morris County Wheelchair Ramp | Type
Writing down and knowing which ramp is best to resolve a situation is critical. Do you have a safety hazard by an entrance door that you have to remember to step over and always have to let your guests know, too? Maybe a compact entry ramp will help that issue. Do you need a permanent ramp or something that is portable, and you are able to remove it as you need? A permanent ramp requires a costly home changes where a portable ramp is less expensive and no change needs to be made to your home. With the portable ramps they have heavy duty handles to help transfer the ramp from one location to another.
Morris County Wheelchair Ramp | Size
If you need a wheelchair ramp, what are the specifications that you need? Measure the width of the threshold then measure the vertical climb. A professional will help with all the correct measurements to make sure the right ramp is installed in your home. An experienced technician can establish the proper wheelchair ramp angle that is best. They will also make sure you have enough clearance in your home to accommodate the length of the ramp. You also need to think about the maximum amount of weight that you will need the ramp to support. Some ramps feature a weight capacity of a few hundred pounds, yet it is better to be safe knowing the occupancy of the ramp you require before purchasing it. Every home is unique and every person using a ramp is unique, too.
Morris County Wheelchair Ramp | Requirements
There are recommendations provided by the American Disabilities Act to help you know more about which ramp is best for you to get.  For total occupancy needed there are two criterias. Is this ramp being used occupied or unoccupied. Occupied is when a person sits on the wheelchair and is pushed up or down the ramp. Unoccupied is when no one is sitting on the wheelchair and it is just pushed up and down the ramp.
Searching for the best Morris County Wheelchair Ramp for your home or business? Back Home Safely is the place to call. At Back Home Safely we focus on our goal to help people remain living in their own home despite any obstacles they may have. In addition to our team of staff carpenters, we create a safe and accessible environment for New Jersey families. At Back Home Safely, our mission is to make living in your home a safe option. Safe and accessible homes start here. Come and visit our showroom to experience our stairlifts, roll in showers, ceiling lifts, lift chairs and so much more. Feel free to contact us at (973)219-4147 or stop by to demo how some of our products work!
Related Posts:
The Real Deal about Stair Lifts and How it Changes Lives
Disabled Teenager Receives a Stair Lift as a Gift
How to Make Stairs Safe for Seniors and Those with Movement-Limiting Disabilities
Common Wheelchair Hazards in the Home
Integrating Wheelchair Ramps Aid in Promoting Independence Among Those with Limited Mobility
Platform Wheelchair Lifts Provide Optimal Maneuverability In and Around the Home
Frequently Answered Questions: Ramps and Wheelchairs
How to Make Stairs Safe for Seniors and Those with Movement-Limiting Disabilities