If stairs are limiting you to one floor of your home, installing a lift could restore your freedom. For people who use wheelchairs, walkers or canes in their daily activities, stairs are a real impediment. Lifts are not only for commercial properties, you can install one in your own residence. With so many choices and design options, there is a lift for every home, and every homeowner. Even renters can benefit by simply renting a lift and installing it temporarily. Standard chair lifts are useful for people who can get in and out at each end. To make stairs manageable for those in wheelchairs, platform lifts take the user and wheelchair between floors with ease. When they need wheelchair lifts New Jersey residents rely on one company to supply and install. In order to get the best service and best wheelchair and chair lifts Somerset County residents call on us.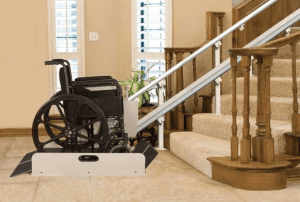 Chair Lifts Somerset County | Stair Lifts
If you can get around with a walker or cane, a standard stair lift is your best option. Mounted on a rail, it glides smoothly up and down between stories in your own home. You do need to be able to get in and out on your own, but you can operate it yourself. Stair lifts with a self-charging battery will work even during a power outage, keeping you safe. The seats are comfortable and for your safety, a seat belt is included. Because it operates at the touch of the button, you can call it from either end, making it easy to use.
Chair Lifts Somerset County | Wheelchair Lifts
Stair lifts do not suit everyone, as you do need to get in and out of the chair. For wheelchair and scooter users, a platform lift is a better choice, as you don't have to get up. Its main advantage is that is has a platform to wheel a wheelchair or scooter directly onto. Platform lifts are extremely versatile. You can install them inside or outside, and on inclined staircases, or vertically. Inclined platform lifts travel along a rail along your staircase, as a stair lift does. Vertical lifts are useful for navigating porch and deck steps, so you can enjoy freedom inside and out.
Chair Lifts Somerset County | Customizing
Not every home is the same, nor is everyone's mobility or specific needs. The good news, though, is that you can customize both stair lifts and wheelchair lifts. Lifts can fit any type of staircase, whether you have straight, curved or multiple landings. For indoor or outdoor use, you can make sure to get the right lift for you. If you are renting your home, rental options are available, and installation is not permanent. Even down to choices in stair lift seat color, there are many design options. You can choose seats that fold out of the way, and make the right choices that work best for you.
In home lifts can make an invaluable difference in people's daily life. They offer independence and mobility, and a freer lifestyle. Navigating the stairs can become difficult as people age. Trips and falls become more frequent. For wheelchair and scooter users, stairs limit freedom and movement. By installing a lift, you regain the use of your entire home. You have a safe way of getting around without limitations. Whether you own your home or rent, or what type of staircase you have, there's a lift for you. When you choose a company that installs, too, they can make any modifications necessary. For information on installation, wheelchair and chair lifts Somerset County professionals are here to help.
Related Posts:
The Real Deal about Stair Lifts and How it Changes Lives
Passaic County Stairlift Supplier
Passaic County Wheelchair Ramp
Disabled Teenager Receives a Stair Lift as a Gift
How to Make Stairs Safe for Seniors and Those with Movement-Limiting Disabilities
Common Wheelchair Hazards in the Home
Integrating Wheelchair Ramps Aid in Promoting Independence Among Those with Limited Mobility
Platform Wheelchair Lifts Provide Optimal Maneuverability In and Around the Home
Frequently Answered Questions: Ramps and Wheelchairs
How to Make Stairs Safe for Seniors and Those with Movement-Limiting Disabilities