Thinking of getting Stairlifts Central Jersey for your home? The elderly are the people that most need a stairlift. As people age, the stairs can become a challenge and a difficult thing to tackle. Disabled people have a hard time using the stairs and find it difficult if not impossible to get around their home. Electric stairlifts may be the answer. There are numerous benefits to getting a stairlift in your home to help you navigate within your home.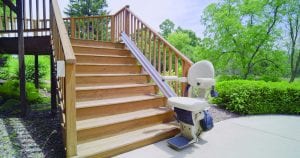 Stairlifts Central Jersey | Independence
For people that find it difficult to climb stairs, they may need a stairlift installed in their home. Having a stairlift installed means that they will not have to worry any longer. They are able to stay in their home and remain independent. They will also be able to live alone or with their family. As a result, they do not have to depend on anyone to help them get around. If they are having thoughts of moving because it has become too difficult living in their home, they don't have to worry any longer. A stairlift installed in their home will give them back their independence.
Stairlifts Central Jersey | Modern and Quiet
Modern stairlifts are quieter and have many new features. They are also easy to use. They are equipped with remote controls where they can be accessed from the top of the stairs or the bottom of the stairs. These features are convenient and ideal for the user and the caregivers. The user does not have to depend on the stairlift to work when the power is off. They have a backup battery in case the power goes out in the home. The backup battery is always charged allowing the user to get up or down the stairs without any fear of falling during a power outage. Stairlifts use DC power so there is no danger of electrical shock happening since there are no cables exposed.
Stairlifts Central Jersey | Multiple Features
Most stairlifts come in many different models. There are models that assist a disabled person to travel up or down the staircase while sitting. We also have models that allow the user to use the stairlift while standing. There are many safety features for these models to prevent falls. These are especially helpful for people with knee issues that have difficulty sitting in a chair. For those that prefer standing because of arthritis and joint issues, they can be transported by a stairlift.
Stairlifts Central Jersey | Indoor or Outdoor
A stairlift is not only for indoors. There are stairlifts that can be installed outdoors, too. For homeowners with porches, decks or patios that have stairs may find it difficult to enjoy the outdoors. People that need to use a stairlift are not restricted to staying inside the home. A professional and experience mobility company can install the right size stairlifts inside and outside of your home. This helps a homeowner to enjoy moving around outside without fear of falling. The ability to move freely inside and outside your home will increase your independence and allow you the ability to go inside or outside your home without restrictions.
Searching for the best Stairlifts Central Jersey company? Give Back Home Safely a call today! If you or a loved one are challenged by the task of moving around the stairs of your home, a Stairlift might be the perfect solution. Many of our Stairlifts can be purchased or rented and installation can be achieved rapidly. In fact, we have hundreds of stairlifts in stock for quick delivery! Back Home Safely's goal is helping people remain living in their own homes despite any obstacles they may have. Along with their team of staff carpenters, they created safe and accessible environments for New Jersey families.
Related Posts:
The Real Deal about Stair Lifts and How it Changes Lives
Disabled Teenager Receives a Stair Lift as a Gift
How to Make Stairs Safe for Seniors and Those with Movement-Limiting Disabilities
Common Wheelchair Hazards in the Home
Integrating Wheelchair Ramps Aid in Promoting Independence Among Those with Limited Mobility
Platform Wheelchair Lifts Provide Optimal Maneuverability In and Around the Home
Frequently Answered Questions: Ramps and Wheelchairs
How to Make Stairs Safe for Seniors and Those with Movement-Limiting Disabilities