Somerset County Stairlift Installation. Do you need a stairlift installed in your home? There are some tips on how to ensure senior safety at home. Issues with mobility among seniors and older adults are very common. Stairs can be a problem for seniors with health issues and injury. Stair lifts are becoming more popular and more interesting since it helps people with challenges and helps them with independence. It can eliminate the risk of falls that some older people face going up and down the stairs. Making a home safer and more user-friendly helps people feel safer in their own homes. Hiring the right company to install a stairlift in your home is as important as the type of stairlift you would like to install. There are a few common goals why investing in a stair lift is good.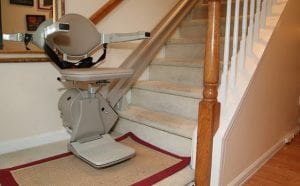 Somerset County Stairlift Installation | Gain Back Independence
A good reliable stair lift can help people with challenges to gain back their independence. People with issues of getting around the home have to depend on others and they can sometimes feel funny asking for help all the time. Installing a stair lift chair can allow them to move easily, freely and safely all around the house. Most people like their independence. They like to be able to get from one area of the home to another without having to depend on anyone else to help.
Somerset County Stairlift Installation | Slips and Falls Can Be Prevented
Slips and falls on stair can be extremely dangerous. Injuries, vision and balance problems can be dangerous when using stairs without help. Installing a stair lift it can reduce the risk of falling on the stairs for older people. People that are suffering from heart issues usually have a hard time going up the stairs. A stairlift this can make them feel safer and not make it very hard to go up the stairs or down the stairs. With hiring a professional company to install a stair lift can resolve these issues.
Somerset County Stairlift Installation | Get Around the Home
To get the full use of your home, a stairlift will help with that. As people often battle with stairs, they find themselves not being able to get around to the other parts of their homes. With a stairlift it gives them freedom to access all areas of the home by themselves. A stairlift is also great to aid mobility to people that have had a recent surgery. Stairlifts give the user the ability to move around independently and it gives them the peace of mind that they will be safe in their home. As people age, they start doubting themselves, becoming nervous about moving around some areas of their home. Choosing a good mobility device carefully with a professional will give the proper information of what is needed to make sure they have the maximum safety in their home.
Searching for the best Somerset County Stairlift Installation company? Back Home Safely is the place to hire. We have been helping people remain living in their own homes despite their challenges for over 10 years. Along with our team of staff carpenters, we create safe and accessible environments for New Jersey families. We actively educate occupational therapists, physical therapists, case managers and social workers through presentations on home changes. In addition to being members of Accessible Home Improvement of America, we are also members of the Morris County Chamber of Commerce. Our ultimate mission is to make living in your own home a safe option, despite life's challenges. Safe and accessible homes start here! Call us today at (973)219-4147, and let us make your home a safe place to be!
Related Posts:
The Real Deal about Stair Lifts and How it Changes Lives
Passaic County Stairlift Supplier
Passaic County Wheelchair Ramp
Disabled Teenager Receives a Stair Lift as a Gift
How to Make Stairs Safe for Seniors and Those with Movement-Limiting Disabilities
Common Wheelchair Hazards in the Home
Integrating Wheelchair Ramps Aid in Promoting Independence Among Those with Limited Mobility
Platform Wheelchair Lifts Provide Optimal Maneuverability In and Around the Home
Frequently Answered Questions: Ramps and Wheelchairs
How to Make Stairs Safe for Seniors and Those with Movement-Limiting Disabilities