As people age, getting around the home poses more and more challenges. That doesn't mean they have to give up their home, however. There are simple modifications you can make around the whole house. The bathroom is one place that requires some of these. Bathrooms are a place often used throughout the day, but that can be dangerous without the right changes. Wet, slippery surfaces can lead to slips and falls. Getting in and out of the bathtub becomes more difficult as people age. If you or someone you love feels a little unsteady and insecure in the bathroom, there's a simple and inexpensive solution. Grab bars can help you get in and out of the tub, and navigate the room safely. When looking for an experienced grab bars contractor New Jersey residents choose the best in Bergen County GrabBars specialists. Call us today about installing grabbars for your safety.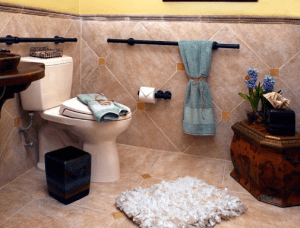 Bergen County GrabBars | Maintaining Independence
With a few alterations, and a little planning, aging people should not necessarily have to give up their own home. Grab bars mean independence in the bathroom, which can be a vital aspect of staying at home. With some home alterations, you can keep your independence longer and give family members peace of mind. By installing grab bars around the toilet and the bathtub or shower, the bathroom becomes a safer place. You can use the grab bars to lift yourself up and down, and stay secure and steady on your feet. A professional contractor can make your bathroom safe and secure in no time.
Bergen County GrabBars | Styles of Grab Bars
Grab bars come in various finishes and shapes and you can install them in several directions, depending on the usage. The three main ones, however, get their names from the manner of their installation; diagonal, vertical and horizontal. Vertical grab bars go up and down, and are easy to grab. They complement horizontal bars in the tub or shower. Horizontal bars are probably the most widely used, and what most people would imagine in a grab bar. Placed along the wall, they offer support for walking, and getting in and out of bathing areas. Place them next to the toilet for support. Diagonal bars tilt along the wall at an angle.
Bergen County GrabBars | Customize for your Needs
If you need to install grab bars, consult a professional to see exactly what will suit your particular needs. There are so many uses for grab bars but what you need may depend on your mobility level. Not everyone needs the same amount of grab bars in the same style. The amount also depends on the size of your bathroom space. Make sure to hire a professional with not only the expertise to know what you need, but also to install it. Home safety experts can assess how many grab bars you need and where to place them to maximize your independence.
Staying at home is important to many people as they get older. It's familiar and comfortable, and it's where they're the happiest. Grab bars could give people the confidence to stay home and care for themselves in privacy and independence. Grab bars come in many styles and finishes. You can choose ones to suit your needs as well as your decor. They are versatile in shape and size, too. Choose corner bars between two walls to help you bathe. Vertical and horizontal bars can go anywhere you need a little extra help. If you need a contractor and are unsure where to install them, a Bergen County GrabBars professional can help.
Related Posts:
The Real Deal about Stair Lifts and How it Changes Lives
Passaic County Stairlift Supplier
Passaic County Wheelchair Ramp
Disabled Teenager Receives a Stair Lift as a Gift
How to Make Stairs Safe for Seniors and Those with Movement-Limiting Disabilities
Common Wheelchair Hazards in the Home
Integrating Wheelchair Ramps Aid in Promoting Independence Among Those with Limited Mobility
Platform Wheelchair Lifts Provide Optimal Maneuverability In and Around the Home
Frequently Answered Questions: Ramps and Wheelchairs
How to Make Stairs Safe for Seniors and Those with Movement-Limiting Disabilities