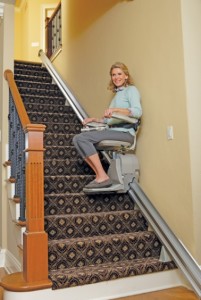 If you or a loved one struggle or have become unable to maneuver safely up and down the stairs of your home, we can help.
Our stair lifts can be purchased OR rented.
Our electric stair lifts include:
Our team of experienced stair lift installers can have your stair lift delivered and installed quickly.
Give us a call today at (973) 219-4147 for a free estimate and home safety evaluation.
Our Stair Lifts will not only make it easier to get up and down the stairs, but they also give you the added peace of mind knowing that you have done everything you can to preserve the independence and peace of mind of yourself or the ones you love.
Back Home Safely also installs Vertical Platform Lifts!
 
Click on an image below to make it larger.