Senior Moments: Keeping Your Home Safe and Accessible

The Episcopal Diocese of Newark – March, 2017
Summary: Home. It is the dwelling where we rest our head at night. However, for many it represents so much more. It is where we raise our family, share time with grandchildren and where we create most of our fondest memories. As we age and/or experience medical compromises our bodies and minds are impacted. Physical impairments can evolve that can alter strength, balance and flexibility which thereby have consequences on the ability to walk, shower and perform daily activities and unfortunately increase the risk of life-altering falls…
Randolph Couple Helping People Age at Home

DAILY RECORD – part of the USA Today Network – March, 2017
Summary: Helping people stay safely in their homes for the past 10 years has been extremely fulfilling for the owners of Back Home Safely. ""We see a lot of people after their injuries. They end up having to be institutionalized in assisted living or nursing homes and not in their house…"
Keeping Your Home Safe & Accessible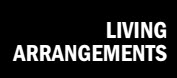 THIRD WAVE NEWS Magazine – July-August, 2016
Summary: Karen Frank, a physical therapist and Gregg Frank, an occupational therapist discuss how catastrophic injuries that can occur from falls in the home and what can be done to make your home safe and more accessible to those with physical issues, including disabilities..
Mobility Makeover for the Home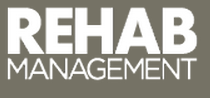 REHAB MANAGEMENT Magazine – March, 2016
Summary: Greg Frank, OTR/L, CAPS, and Maria Renda, MEd OTR/L, CAPS, ECHM, discuss planning home modifications that enable access and movement through the living space and beyond.
Making Your Home Safer As You Age
NewRetirement Magazine – December, 2015
Summary: Licensed physical therapist Karen Frank and occupational therapist Gregg Frank, owners and founders of Back Home Safely, discuss their mission and the dangers facing older adults who want to live independently, and also offer advice on how to make your home safer as you near retirement.
Safer Surroundings: Why OTs are Vital in Keeping Aging Patients Fit and Functional at Home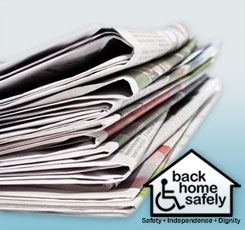 ADVANCE Magazine – December, 2013 Features
Summary: Greg and Karen Frank talk about how they found that their positions as outpatient therapists allowed them to provide help for outpatients… but not as much as they would have liked, which led to them founding Back Home Safely.
Changing to Stay: How Occupational Therapists are Taking on Home Modifications and Helping Seniors Age in Place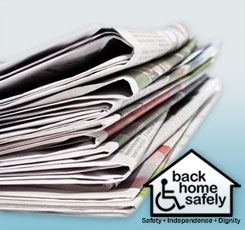 ADVANCE Magazine – May 17, 2013 Features
Summary: Greg and Karen Frank are interviewed in an article dealing with the issues faced by aging individuals who have medical conditions that hinder their ability to live independently at home and how home modifications can help aging seniors age in place.
A New Series: Faces of Occupational Therapy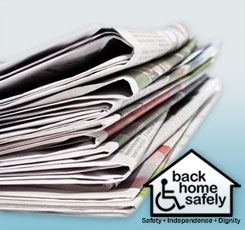 NJOTA Newsletter Volume V Issue 5
Summary: Gregg Frank, an occupational therapist, specializes in home safety and accessibility modifications.
There's No Place Like a Safe and Accessible Home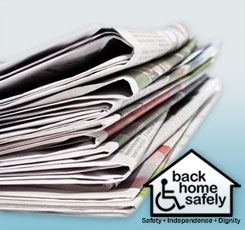 Senior Citizen's Guide to Northeast New Jersey -2009 Summer/Fall Edition
Summary: An occupational therapist is able to analyze all of the activities of daily living that an individual may encounter in their home, identify difficulties that their physical or cognitive impairments may cause, and offer solutions to these problems to create a safe and accessible environment.
Recognition: Therapy is its own reward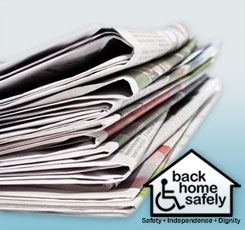 RandolphRoxburyThisWeek.com – December 23, 2009
Summary: Karen and Gregg Frank assist caregivers by assessing and customizing their homes for safety and accessibility.
Thanksgiving Food Drive Sponsored by Life Transitions Group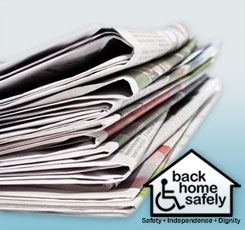 Morristown Patch – November 15, 2011
Summary: Local "Life Transitions Group" gathered together Monday, November 14th to prepare Thanksgiving baskets for the homeless, struggling working families and the elderly.
With collection centers in Morris, Union, Essex and Somerset counties they were able to gather and prepare 50 baskets to bring to the community soup kitchen and outreach center for distribution. Life Transitions is a group of professionals whose mission is to…