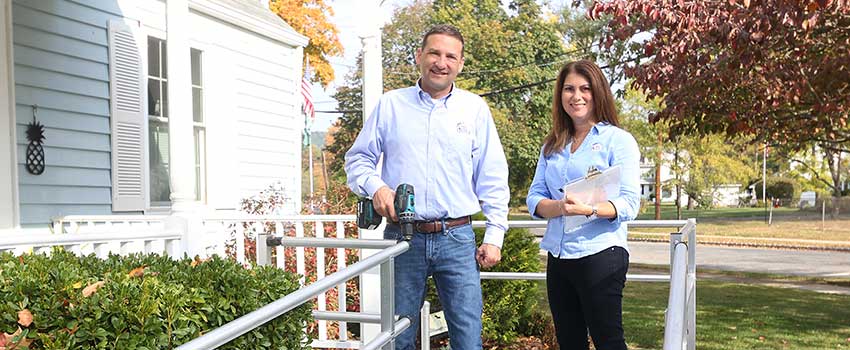 Founded By a Licensed Occupational and Physical Therapists
Gregg and Karen Frank are a licensed occupational and physical therapist who live in northern New Jersey raising their three children. Gregg Frank graduated from Boston University in 1989 with a degree in occupational therapy. He holds the position of Home & Community Health Home Modification Network Manager of the American Occupational Therapy Association. He is a Certified Aging in Place Specialist, a designation of the National Association of Home Builders. Gregg is also a licensed Home Improvement Contractor in the state of New Jersey.
Karen Frank graduated from Cornell University in 1987. She then received a degree in physical therapy from Simmons College in 1989.
Karen and Gregg began their rehabilitation careers together in 1990 and have since worked in Acute Care Hospitals, In-Patient and Out-Patient Rehabilitation Centers, Skilled Nursing Facilities and Assisted Living facilities. Karen also worked as a home care physical therapist.
We Create Safe Home Living Environment for Families in New Jersey
In 2007 Gregg and Karen developed Back Home Safely to focus on their goal of helping people remain living in their own homes despite all obstacles. Along with their team of staff carpenters, they created safe and accessible environments for New Jersey families.
They actively educate occupational therapists, physical therapists, case managers and social workers through presentations on home modifications.
A Member of  Accessible Home Improvement of America
Back Home Safely is also a member of the Accessible Home Improvement of America, a national organization of independently owned and operated, certified providers and contractors dedicated to providing Accessible Home Modifications, Independent Living Solutions and related products and services.
Back Home Safely is a proud member of the Morris County Chamber of Commerce.
Our Mission:
Our mission is to make living in your own home a safe option, despite life's challenges. Safe & accessible homes start here!