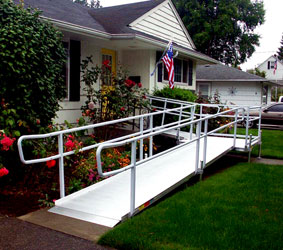 Back Home Safely can help to find and install the right handicapped ramp to suit your individual needs and requirements.
Our ramps can be purchased or rented.
Our Handicap Ramps Include:
Threshold ramps
Portable ramps
Modular handicap ramps
Structural ramps
Our team of experienced ramp installers can have your wheelchair ramp delivered and installed quickly.
Give us a call today at (973) 219-4147 for a free estimate and home safety evaluation.
Having a wheelchair or handicap ramp installed can provide vital accessibility to anyone that is confined to a scooter, a wheelchair, or that has restricted mobility.
Before having a ramp installed on your home, you must first determine what the primary function of the ramp will be.
Will it be for someone to propel a wheelchair independently on?
Will it be for someone to mobilize a scooter or electric wheelchair on?
Will someone be walking on it with a cane or a walker?
At Back Home Safely, occupational and physical therapists Gregg and Karen Frank take time to find out the answers to these crucial questions and then use their experience and expertise to determine the best ramp layout as well as ramp material to promote safe and convenient accessibility.