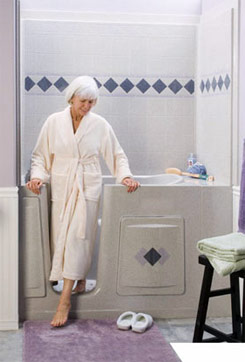 For an older person, or someone with a disability or handicap, getting in and out of the bathtub or shower can be a difficult, dangerous, and sometimes impossible task.
Back Home Safely, we offer a complete inventory of high quality tubs – from walk in bathtubs to roll in showers – in order to provide a safe and simple solution to your bathing needs.
For those concerned with falling, or those having restricted mobility, who would still like to have the liberty of being able to take a bath, a walk-in tub may be just what you need. Walk-in tubs make taking a bath much easier.
These tubs contain a door built into the front or the side which alleviate having to climb in and out of a tub. Plus, a seat molded right onto the tub adds extra safety and convenience when bathing.
Roll-in showers are an alternative to installing a walk-in bathtub. Roll-in showers may be more convenient to those who are confined to a wheelchair or need the aid of a walker. Strategically placed hand rails and transfer benches can add additional safety, comfort and convenience.
At Back Home Safely, we can help you decide on what type of tub or shower would best suit your needs .For more information on our walk-in bathtubs, roll-in showers, or other home modification needs, give us a call today at (973) 219-4147.
We look forward to hearing from you and helping to make your home safer and more functional to meet your individual needs.
Do you or one of your loved ones need a walk-in or roll-in shower? Get a FREE home safety assessment by clicking here.
Handicap bathtubs aren't the only item to consider.  See our Bathroom Safety page
Have a question about walk-in tubs?
Click here for our Walk-In Tub Frequently Asked Questions.
Roll In Showers
Roll in showers are an alternative to installing a walk-in bathtub.