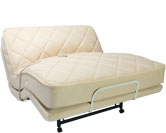 The Flex-A-Bed Value-Flex is our most affordable adjustable bed and is hand-built to your specifications by expert craftsmen in LaFayette, Georgia.
Every Value-Flex comes with
a five-year limited warranty.
one-touch wired controls.
whisper quiet Linak® motor technology.
a 4 inch foundation profile, high-density, heavy duty padded base
made with Advantech® material that will not warp, break or squeak.
an innerspring mattress in your choice of soft, medium or firm construction.
locking casters.
the ability to attach to existing headboards.
The Value-Flex comes standard in twin, full, queen, dual queen, and dual king in 74, 80 and 84 inch lengths.
The height of the Flex-A-Bed Value-Flex comes standard at 23 inches and can be lowered to 21 inches by removing the casters. The height of the bed can also be raised in 1 inch increments from 2 to 7 inches with optional leg extensions.