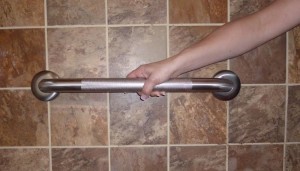 Grab bars and Stair Rails are an important part of home safety for those who are suffering from physical handicaps or disabilities.
Our safety bars and rails include:
Grab bars
Custom Stair Rails

Available in: Oak, Pine, Iron, Aluminum
Our team of experienced installers can have your rails or grab bars delivered and installed quickly.
Give us a call today at (973) 219-4147 for a free estimate and home safety evaluation.
Did you know that falls are the number one cause of injuries in a home?
Equipping your home with strategically-placed grab bars and stair rails will enable you or your loved one to stay at home!
Click on an image below to make it larger.