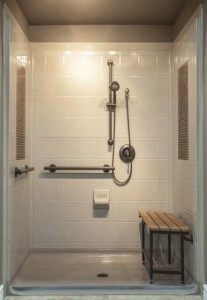 With their wet floors, narrow doorways, low toilets, slippery showers, and bathtubs, bathrooms can pose a threat to an able bodied person's safety.
At Back Home Safely, we can modify your bathroom to make it safer and more accessible. Our bathroom modifications include:
Grab Bars
Hand Held Showers
Tub seats and Shower seats
Elevated Toilet Seats
Tub Transfer Benches
Walk-in or Roll-in Showers
Give us a call today at (973) 219-4147 for a free estimate and home safety evaluation.
Back Home Safely also enlarges doorways, extends bathrooms, inspects lighting, ventilation and electrical functions, and will even build a completely new bathroom on a lower level of the home if needed.
Whatever the need is, great or small, Back Home Safely will provide what it takes to make your bathroom a fully functional, convenient, and most importantly – safe – environment.
Click on an image below to make it larger.