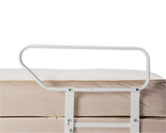 Some customers prefer their Flex-A-Bed a little higher off the floor. Others ask for an easier way to change the sheets. Whatever your needs or requests, Flex-A-Bed can most likely accommodate you.
Side Rails
Side rails make getting in and out of bed easier while providing added security while sleeping. Side rails easily fold away when not in use. The Premier must be ordered with a 4 inch foundation profile to be used with side rails. All side rails are shipped separately via UPS.
Leg Extensions
To ensure easy entry and exit from the bed, leg extensions can be added to adjust the height of the mattress from the floor anywhere from 23 to 30 inches. Leg extensions can not be used on the Hi-Low model.
Lower Bed Heights
When needed, you can lower the height of any Flex-A-Bed model 2 inches by removing the casters.
Swingaway Brackets
Swingaway brackets create a hinge between our headboard bracket and your customer's headboard for easier cleaning or changing of sheets on a dual queen or king. These brackets cannot be used with the Hi-Low model.
Reinforced Bed Frames
Our optional reinforced bed frames are manufactured with six legs for extra support, double steel in the frame and lift arms for added strength, and Flex-A-Bed's heavy-duty motors for reliable operation. Not required on the Hi-Low model.
Custom Fitted Sheets
Luxurious, white, poly/cotton fitted sheets designed exclusively to fit our mattresses. These sheets fit most other manufacturers' beds as well.